If you're a fan of online slots, you probably know that if you want to win a fortune, there is one game you need to target, and that's Microgaming's Mega Moolah. Since it launched back in 2008, Mega Moolah has continued to be a popular choice for slots players around the world, all dreaming to scoop the big jackpot. You can read all about this game in our online slot reviews and check out our list of top online slots to find similar games.
The good news is you can play the original Mega Moolah progressive jackpot slot and a variety of other jackpot games like Mega Fortune, Mega Moolah Isis and Mega Moolah Summertime, all of which pay into a general prize pool and give every player a chance to change their lives. If progressive jackpots interest you, be sure to check out our Mega Fortune slot review and find Mega Fortune slot casino sites to try your luck at. We also have an in-depth section of slot FAQs to help you get to grips with the reels.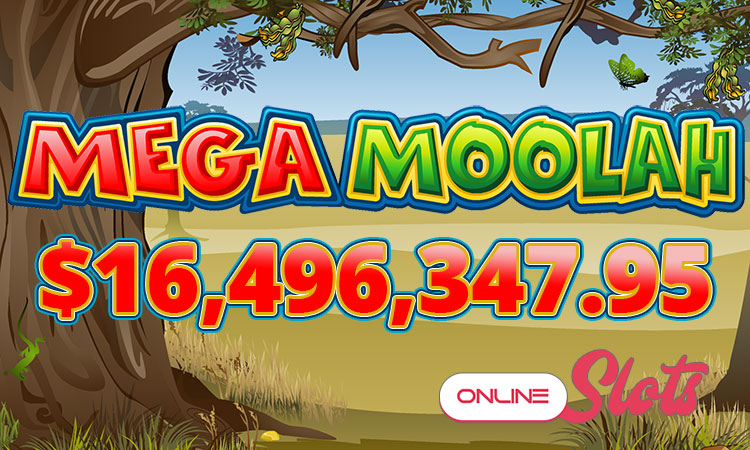 What You Need to Know About Mega Moolah
Before we talk about how Mega Moolah pays out huge jackpots, we'd like to give you a brief Mega Moolah slot review. The most exciting thing about the game is that you don't just get to play for one jackpot, but four jackpots. This means there's always something going down in the game.
The mini jackpot is the easiest to get your hands on, and it falls pretty often. While the sum isn't all that big, it's still a nice way to boost your bank balance. The minor jackpot also shows up regularly and can reach anywhere from $/€100 and up. This is a great way to make a profit playing Mega Moolah. The major jackpot in the game can reach substantial amounts. We're talking a couple hundred thousand. While it's not the record-breaker, it's still a prize worth bragging about.
Finally, the mega jackpot is the one we all go after. It's equivalent to scooping a huge lottery jackpot, and it's a win that's sure to net you a place in slot history. Even the lowest mega jackpot can reach over a million.
Mega Moolah Makes Instant Millionaires
Read our in-depth Mega Moolah slot review, and you'll realise that this is the largest jackpot pool in Microgaming's network, complete with scatter symbols, wilds and free spins to boost your winning chances.
The game was first released as a single Safari-themed cartoon slot, and today has several spin-offs, including Mega Fortune and Mega Moolah Summertime. While the symbols and graphics may change from one title to the next, one thing remains consistent – your chances of winning the jackpot.
To scoop the mega jackpot, you need to be lucky enough to get entry to the progressive bonus round. Once you get into this round, you get to spin the jackpot reel – something pretty similar to the Wheel of Fortune concept. Should the wheel come to a stop on a white-coloured segment, you can start celebrating your new millionaire status.
It might sound out of reach, but this popular slot has provided some of the world's biggest slot jackpot winners, like Marcus Goodwin who won $11.6 million and John H. who won a mega $13.2 million.
Where to Find a Mega Moolah and Mega Fortune Slot Casino
Microgaming's progressive jackpots are some of the best in the world, and Mega Moolah is right up there. That means you will find plenty of sites that allow you to play the slot for real money and win some mega jackpots. You'll find these games at all leading Microgaming casinos, along with the Quickfire platform and plenty of other operators. This means you can enjoy tons of options.
Top Casinos where you can play Mega Moolagh
Casino
Features
Rating
Play
100% bonus up to $/€100 Special offer every weekend Reward points for loyalty
Sign Up
Review
200% up to $/€1600 Evolution Live Dealer Casino The King of Mobile
Sign Up
Review
$/€1000 Welcome Bonus 100% match bonus Over 1000 games
Sign Up
Review
To get started, you'll need to register a new casino account at your casino of choice, make a deposit and start spinning those reels. Take a look through our recommendation of top online slot casinos to find one that offers Mega Moolah and other Microgaming progressive jackpot games.
When you find a casino, be sure to check out the slot bonuses on offer as well as the minimum playthrough requirements. Also, take a look at the casino's ongoing promotions and available payment methods. Mega Moolah is a legit slot, but always make sure you sign up at a licensed casino where your deposits, details and potential winnings will be safe and secure.
Then, who knows – you might just join the list of Mega Moolah jackpot winners as an instant millionaire. After all, 2019 saw nine jackpot winners on the popular slot!